I have been thinking about making a post, but every time I am halfway to the blog page I just end up clicking on the next episode of Keeping Up with the Kardashians. That's right, I have inevitably been sucked into lower-caste forms of entertainment. It's delicious because it's so vacuous and it's so vacuous because it's so vain, you know, the works. I have never watched anything in such far remove from my personality and lifestyle. Relatable is overrated, I have come to learn. On the downside though, I can literally feel the dystrophy in my brain cells (I'm on the episode where Kim is crying about her US $ 5,000 earrings getting lost, surely you feel me).
Moving on…
I read 5 books in June (3 non-fictions and 2 fictions), and I apologise for not reviewing any of them sooner. It was all due to the aforementioned Kardashian concerns. But let's now get into the brief of the reviews, shall we?
1. Interventions: A Life in War and Peace by Kofi Annan
This is a deeply personal memoir by Kofi Annan, the Ghanaian UN Secretary General between 1997 and 2006. As a political memoir, I expected Kofi to largely catalogue his accomplishments and be on his way. That would have been an incomplete story, but I would not really have held it against him. Not for long. I was, however, pleasantly surprised by his candour. It was raw and poignant, which made it beautiful. He held a mirror for us to look into what the UN really has been, your rich friend who hardly ever comes through for you when you really need them, but one that's kinda useful for your optics so you keep them around. He goes into great lengths to discuss the UN's failures in Somalia in the early 90s and how that led to the international community's scepticism of UN's trustworthiness when it came to the Rwandan genocide of 1994 and as a result all parties doing absolutely nothing to salvage the situation. He talks about the conflict in Sudan, Sierra Leone, and even the post-election violence in Kenya in 2008. Outside of Africa, he gives us a glimpse into Indonesia and East Timor's achieving of autonomy, which was the UN's first peacekeeping success story. But it's not all about war, there is a bit of peace as he reflects on the success of the MDGs and his Nobel Peace prize. That's pretty much it though, because he then delves headfirst into the Israel/Palestine decades' old conflict, and his involvement and lack thereof till the end of the book.
It's genuinely difficult to read this book without prior knowledge of the various contexts Annan bases his experiences. It felt a little like something was missing, and indeed it was, when Israel Vs Palestine is told from a 1997-2006 "review period", when there's so much more to it. And I suppose that's the nature of a memoir, it's going to be bound by the time the subject witnessed. That, and the fact that Annan could get just a little bit dry at times which didn't help things move along. Otherwise I found it deeply illuminating and profoundly honest. That Annan is so comfortable in being such an imperfect Sec Gen was probably what made him a great Sec Gen, and I think that in itself is stunningly beautiful.
Rating: 4/5 stars
2. The White Tiger by Aravind Adiga
This book gave me a lot of thoughts and feelings, and for the most part that was annoying because I didn't think it was especially good. In fact, the more time lapses since I read it, the more I think it is especially *not* good.
The book is a letter from a certain Balram to the Chinese Premier, who is set to tour India imminently. Balram tells his story, of being born to a poor family by the River Ganges (google it, especially in relation to cremation of the dead. It is a piece of work). Balram soon finds a job as a chauffeur to a rich family, and the rest of the story is basically him ranting about how the poor can't get squat when the rich has it all. Now, I'm all for this kind of lamentations because I detest capitalism and social schisms and/or hierarchies. This screed though, it felt a little like Aravind was manipulating a story to fit a social justice framework and elicit certain feelings. That made me not trust him or his characters, and worse than that, it made me not relate or sympathise with Balram at all. I did see the worst happen to him, but as long as Aravind used it as a lens into how terrible India is and how everything sucks, I felt used.
The book had brilliant comic moments and such lyrical quotes though;
"There's a sign in the National Zoo in New Delhi, near the cage with the white tiger, which says: Imagine yourself in a cage. When I saw that sign, I thought, I can do that-I can do that with no trouble at all"
"Do we loathe our masters behind a facade of love-or do we love them behind a facade of loathing?"
"Servants have to keep other servants from becoming innovators, experimenters or entrepreneurs"
"The life of a poor man is written on his body, with a sharp pen"
Rating: 3/5 stars
3. On Palestine by Noam Chomsky and Ilan Pappe
I have wanted to read a detailed account of the Israel/Palestine conflict and hopefully complement the articles and Youtube videos I have seen, so when I saw this book in an obscure bookshop in Lusaka I lurched with such excitement thinking it would be the bridge between my ignorance and expertise of all of Middle East conflict.
Makosa.
This book is written in dialogue form, with one guy asking the questions, and the two gentlemen and professors of history responding to them. Sold like that, it sounds ok. No one tells you how tedious it is to read responses by two people not only agreeing on virtually everything, but parroting the same ideas from end to end. The main ideas of this book are twofold 1) that the US is to blame for most of the pain Israel continues to inflict on Palestine and 2) that there are important parallels to be drawn between Apartheid in South Africa, and Zionism (or certain brands of Zionism) in Israel. They sound like decent and agreeable premises to me, and the problem is not that I disagree with anything said per se. But how this becomes an entire book with nothing new added to it is a thing of [opposite of beauty]. By the time I was half done with this book I was so tired I didn't have the mitochondrial capacity to go on. So I jumped pages a little, before I called it a day. It's just July, but I feel fairly certain this will be my worst book of the year. Rather than reading another book like that I'd prefer to terminate my semi-successful reading entreprise at this point.
What a remarkable way to waste time.
Rating: 2/5 Stars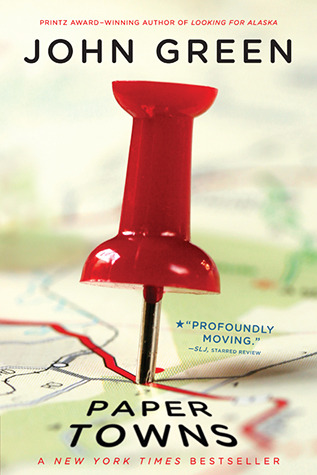 I love John Green. Being a geeky guy means his books are super readable to me, and I get to interact with him through his Youtube content and podcasts. He is witty and works so hard to sprinkle all these trivia your way while interacting with his content. With Paper Towns I expected no less.
I should have.
The book is a treasure hunt, but the boring kind, and for a girl who has wittingly disappeared to punish her parents and the universe I guess (a search party for a dumb brat. Not my thing). Her "love interest" and the person doing most of the searching is a guy in her class, but one who hasn't had much of a conversation with her, except for the day before her disappearance and not in a very romantic way. And even then, he places her on an impossible pedestal, almost as if she's not human. Her on the other hand, predictably, condescends upon him every step of the way. There has never been a couple more difficult to root for in the history of YA fiction.
I tried to put myself in the spirit and shoes of a teenager, but even then I couldn't give a remote crap about what either the girl or guy was going through. It sounded so implausible and corny to me I just couldn't bring myself to relate at all. At the end they did find each other, but I didn't cry, which is to say a lot because I am the biggest crier I know. I have cried in Keeping up with the Kardashians 😦
In the usual JG style though the book was hilarious, but I have read better John Green Books. In fact, I have now read all 4 John Green books and this ranks last for me.
Rating: 3/5 stars
5.Black Flags: The Rise of ISIS by Joby Warrick
This was the book to end all books. If these books were men I'd introduce this book to my parents, wed and sire kids with it all on the same day. This book is the definition of magnificence.
I feel weird telling people how much I enjoyed reading this book. I mean, I did, but it's a book about ISIS; A jihadist organisation so cruel even Al Qaeda has in the past repeatedly sought to distance itself from it.
It is an incredibly long story, and Warrick helpfully segments it into three parts ("books"). (i) He tells a story of Al-Zarqawi, the Jordanian largely believed to have been the founder of the wave of extremism that ISIS inherited, and a mentor to the would-be leaders of ISIS. (ii) The story of the America's invasion of Iraq in 2003. This part of the story was particularly interesting to me as I had just read Kofi Annan's version of it not too long before. Like Annan [and almost everyone ever], Warrick goes into the detail of how ill informed the attack was, and how vulnerable it left civilian Iraqis and created the sectarian divides between Sunnis and Shiites to be exploited by Al-Zarqawi and his gang. (iii) The story of the Arab Uprisings, and especially Syria's, and how the chaos that resulted between Bashar al Assad's government and the rebels created the right temperatures for ISIS, especially in the North, in Raqqa and Aleppo.
When I finished this book I felt quite sad, and I am quite likely going to re-read it in the next few weeks. I just haven't read a book like that since maybe The Gene or Sapiens, except this is not about the human genome or evolution, it's about man fighting man, which to me is arguably a more urgent point of interest.
Rating: 5/5 stars
I am currently reading another Siddhartha Mukherjee because for some reason Medical Biology/Science is one of the genres I have really fallen in love with this year. Soon I'll do a short list of my favorite books for the first half of 2017, but I'm sure one can tell which ones they are going to be from the reviews.